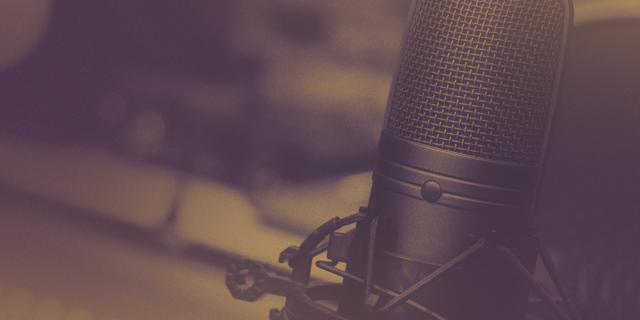 Getting in the Audio Game
Sound Up Bootcamp UK Amplifies Diverse Women's Voices
This autumn, hundreds of podcast hopefuls submitted their pitches for an original show. Ten were awarded the opportunity to learn how to bring their stories to life. Ultimately, three finalists emerged, who will go on to make their own podcasts, thanks to Spotify UK's first-ever Sound Up podcast bootcamp.
The week-long, intensive bootcamp for up-and-coming podcasting producers was specifically created to help foster talented—but often underrepresented—voices in the field. To qualify for consideration, Sound Up applicants had to identify as a woman or non-binary person of colour.
"We wanted to look at ways in which we could highlight diverse voices in podcasting," says Alexandra Adey, UK Podcast Partner Manager at Spotify, "and to give people the tools to make content if they weren't able to do so previously."
Inspired by the success of a similar Spotify event in New York, Alexandra and her London-based team invited ten creatives to join the budding podcasters for five days of talks, master classes, and studio time. Attendees heard from industry experts on how to develop and improve their skills in sound design, editing, branding, production, social media, and storytelling.
At the end of the week, they pitched their podcast ideas to a panel of external judges, all prominent figures from across the UK audio industry. Three winners were selected: Sangeeta Pillai, Kym Oliver, and Olorunfemi Fagunwa. They were rewarded with ongoing technical and marketing support from Spotify, as well as free software packages and studio time to help bring their podcasts to life.
"A lot of women from my culture don't even listen to podcasts, because [the topics are] not relevant to them. I think if we make content that speaks to what they care about, and open up spaces for them, I think there will be a lot of engagement," says Sangeeta, whose Masala podcast focuses on "lovely warm chats over a cup of tea" with other women "doing something fantastic in their field."
Sound Up also leaned into the democratising power of the medium. As Alexandra shared, "Podcasting is fantastic because in one respect it's a very level playing field … A good podcast creates its own little fan club or listening gang. And it gives you room to hear content you wouldn't hear on mainstream radio."
Accessibility, in a different sense, is especially important to Kym Oliver. A wheelchair-user, she values the fast-track options to creativity that a podcast readily offers. Her winning submission was for an audio play about a failed fictional reality TV star.
"A podcast is super accessible," she affirms. "You can just put your thought out there. And I don't think people historically went into it thinking, 'I'm gonna do a podcast, I'm gonna become a millionaire!' They did it because they wanted their voices to be heard. It's an audience-driven thing."
Kym further shared that her week at Sound Up "was collaborative, it was loving, it was sharing, and everyone was supporting each other. And even the generosity of the people who were coming to give the master classes was really inspiring."
The third winner, Olorunfemi Fagunwa, is the force behind the podcast Notorious, "about women in history who are known as being disruptors or troublemakers in some ways. We want to throw a light on women around the world who are often overlooked or not paid attention to, and get a sense of their time and space." Her work focuses on interviews with historians, researchers or people who might have known them. First up: Winnie Mandela and Funmilayo Ransome-Kuti.
Sound Up is now sounding off—helping to amplify voices and increase diversity—and it's clear that the podcast revolution is on.